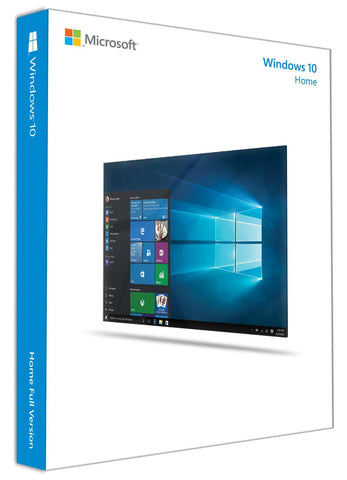 Windows 10 Home 1 PC 32bit/64bit
Item Description:
Do things confidently.
Windows 10 was developed using feedback from millions of people, so you can feel confident that Windows 10 works the way you want it to. Additionally, Windows 10 helps you stay current for a worry-free experience with the greatest features and our latest protection against viruses, phishing and malware.
A web that works the way you do.
The all-new browser is great for getting things done online. Write or type directly on webpages and easily share the mark-ups; you'll also like reading online articles free of distractions. The address bar gives you personalized recommendations to get you quickly to your online destination.
Take your gaming further.
Great Xbox titles, the best of Xbox Live, and your Xbox community, achievements, and game collection via the Xbox app. You can even use your Xbox controller and stream Xbox One games on your home Windows 10 PC, laptop, or tablet.
Do things across your devices.
Take your movies, music, and photos with you across all your devices with OneDrive. Plus, with OneDrive, you get 15GB of free storage space.
Do things magically.
Cortana is your truly personal digital assistant who learns more about you over time. Cortana works across all your devices, from phone to tablet to PC, to help you do more and forget less.
Product Validation:
The product activation guide guarantee activate 1 PC device. Life time activation
Shipping Method:
Once the payment has been received, the product activation guide will be sent within 24-48 hours except holiday and weekend. We provide both digital delivery and physical USB delivery. Note the USB is a self made bootable USB that contain full version of product and activation guide.