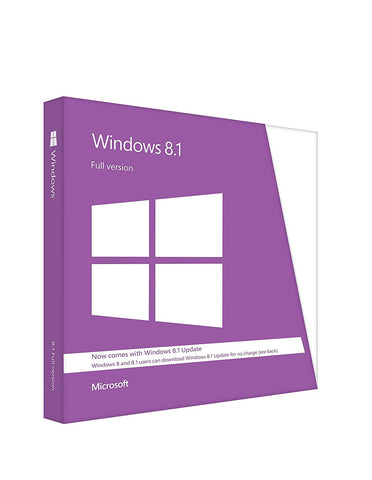 Windows 8.1 Standard 1 PC 32bit/64bit
Item Description:
Best of Work and Play
Bring all the aspects of your life together — create, play, discover, connect, and work.
Get to it all from the new Start screen, even your familiar desktop
Discover popular and unique apps in the Windows Store
Personalize with more tile sizes, colors, & backgrounds
Do more with side by side views of apps and sites
Access photos & files virtually anywhere with SkyDrive built-in
Search, browse, and share more securely and quickly
It Plays as Hard as it Works
Windows 8.1 gives you the power to quickly browse, watch movies, play games, polish your resume, and pull together a killer presentation — all on a single PC. Now you can organize up to three apps on your screen at once in a single view.
The Start Screen
Personalize your Start screen with your favorite news, friends, social networks, and apps. Customizable colors and backgrounds and four different sizes of tiles make your device as unique as you are.
The Apps you Want
In addition to great built-in apps for email, people, photos and video editing – you can also download thousands of popular apps from the Windows Store, including Netflix, ESPN, Skype and Halo: Spartan Assault.
Security
Stay up to date and more secure with Windows Defender, Windows Firewall, and Windows Update.
Speed
Windows 8.1 starts up faster, switches between apps faster, and uses power more efficiently than previous versions of Windows, including Windows 7.
Your Familiar Desktop
From the Start screen, you are just a click away from the familiar Windows desktop you know so you can do the stuff you've always done.
Multitasking Made Easy
It's easy to do more at once. Snap multiple apps side by side in a single view for easy multitasking.
Mouse, Keyboard—and now Touch
Windows 8.1 works harmoniously with various types of devices, including touch, mouse-and-keyboard, or both. Whatever kind of device you have, you'll discover fast and fluid ways to switch between apps, move things around, and go smoothly from one place to another.
Your files, Everywhere
Stay connected to your photos and important files and access them on your phone, tablet or PC with SkyDrive. By signing in with your Microsoft account to any of your PCs running Windows 8.1 and you'll immediately see your own background, display preferences, and settings.
You Keep all your Files
If your PC is running Windows 7, your files, apps and settings will easily transfer to Windows 8.1.
You Keep Familiar Programs
Programs that run on Windows 7 will run on Windows 8.1.
Your Office. Your Way.
Experience Office at its best on Windows 8 devices. Discover new and better ways to create, edit, and browse—using a keyboard, pen, or touchscreen. Don't forget: Office is not part of Windows 8.
Product Validation:
The product activation guarantees to activate 1 PC. Life time activation
Shipping Method:
Once the payment has been received, the product activation guide will be sent within 24-48 hours except holiday and weekend. We provide both digital delivery and physical USB delivery. Note the USB is a self made bootable USB that contain all necessary information to activate this product.