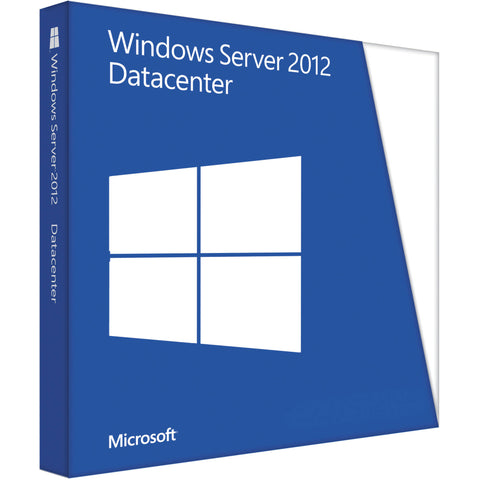 Windows Server 2012 R2 Datacenter 64bit
Item Description:
Enterprise-class

Enhanced features allow you to take advantage of even better performance and more efficient capacity utilization in your datacenter, helping you increase the agility of your business. Windows Server 2012 R2 offers a proven, enterprise-class virtualization and cloud platform that can scale to continuously run your largest workloads while enabling robust recovery options to protect against service outages.

Simple and cost-effective

Windows Server 2012 R2 also gives you resilient, multi-tenant-aware storage and networking capabilities for a wide range of workloads. It delivers these capabilities at a fraction of the cost of other solutions, through the use of low-cost, industry-standard hardware. With automation of a broad set of management tasks built-in, Windows Server 2012 R2 simplifies the deployment of major workloads and increases operational efficiencies.

Application focused

Windows Server 2012 R2 helps you build, deploy and scale applications and web sites quickly, and with more flexibility than ever before. In concert with Windows Azure VM and System Center 2012 R2, it unlocks improved application portability between on-premises environments and public and service provider clouds, increasing flexibility and elasticity of your IT services. Windows Server 2012 R2 provides a scalable, highly available platform for mission-critical applications and offers enhanced support for open standards, open source applications and various development languages.

User-centric

Windows Server 2012 R2 makes it easier to deploy a virtual desktop infrastructure, and can lower storage costs significantly by supporting a broad range of storage options and VHD de-duplication. Virtual Desktop Infrastructure in Windows Server 2012 R2 makes it possible for users to access IT from virtually anywhere, providing them a rich Windows experience while ensuring enhanced data security and compliance. Windows Server 2012 R2 enables you to provide access to corporate resources and helps protect critical business information. With Windows Server 2012 R2, you can manage identities across your datacenter and federated into the cloud, provide flexible remote access to applications and resources, and define the resources and level of access users have to information based on who they are, what they are accessing, and what device they are using.
MAIN SPECIFICATIONS
Product Description Microsoft Windows Server 2012 R2 Datacenter - license
Operating System Microsoft Windows Server 2012 R2 Datacenter - 64-bit
License Type License and media
License Qty 2 processors
License Pricing OLP
Language(s) English
Licensing Details 64-bit
The this product activation guide guarantee to activate one 1 server. Life time activation.
Shipping Method:
Once the payment has been received, the product activation guide will be sent within 24-48 hours except holiday and weekend. We provide both digital delivery and physical USB delivery. Note the USB is a self made bootable USB that contain all necessary to activate this product.