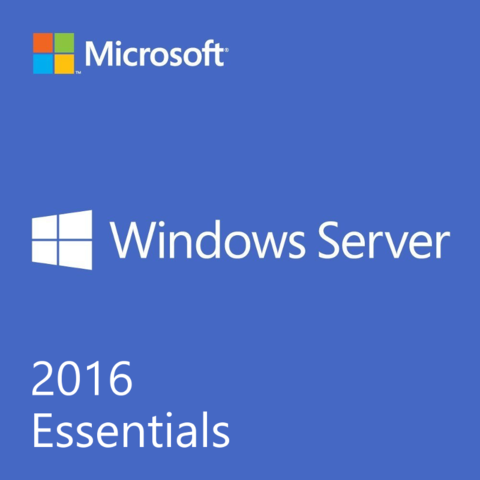 Windows Server 2016 Essential 64bit
Item Description:
Windows Server 2016 Essentials Edition is a cloud-connected first server system that is ideal for small businesses with no more than 25 users and 50 devices. 2016 Essentials is an excellent option for customers currently using the Foundation edition, which is not available with Windows Server 2016.
FEATURES
Some of the new features integrated with Windows Server 2016 Essentials include:
Azure Site Recovery Services
When a virtual machine that is protected from threats stops working, or the host server that it all runs on fails, Azure Site Recovery Services allows users to maintain business continuity until the virtual machine or host server on-premises is repaired and made available. Azure Site Recovery Services, a feature in Microsoft Azure, allows a replication of your virtual machines (VM) to be done in real time and sends it to a backup vault in Azure. If your server or site goes down due to faulty hardware or another failure, you can fail-over with Azure Site Recovery so that the virtual machine image stored in your backup vault will be provisioned as a running VM in Microsoft Azure. Combined with an Azure Virtual Network, client PCs that previously connected to the server on-premises will connect to the server running in Azure.
Azure Virtual Network
As organizations transfer their workloads to cloud computing, they seldom move all of their resources all at once. They instead move some resources to the cloud and keep some on the premises. It's much easier to move an organization to the cloud in stages over time. Azure Virtual Network integration provides the network infrastructure that makes that process seamless and manageable. Azure Virtual networking is a service that enables organizations to create a point-to-point (P2P) or site-to-site (S2S) virtual private network that makes resources that are running in Azure (such as virtual machines and storage) look as though they are on the local network for seamless access to applications and resources.
Larger Deployments Support
Some medium-sized businesses need more functionality and capacity to implement Windows Server Essentials. Windows Server 2016 Essentials provides increases the manageability of domains, users, and devices by adding support for larger deployments with multiple domains and domain controllers as well as ability to specify a designated domain controller.
For more information on Windows Server 2016 Essentials, contact us at (800) 318-1439 or support@mychoicesoftware.com. 
The this product activation guide guarantee to activate one 1 server. Life time activation.
Shipping Method:
Once the payment has been received, the product activation guide will be sent within 24-48 hours except holiday and weekend. We provide both digital delivery and physical USB delivery. Note the USB is a self made bootable USB that contain all necessary to activate this product.